By Patrick Obia – CrossRiverWatch
Rainforest Resource and Development Centre, RRDC, has sent SOS to 100 Boki Local Government Council (Cross River State) sons and daughters well placed in the society to rescue their God-given resources.
The group in a letter signed by its Executive Director, Mr. Odey Oyama and addressed to the Boki stakeholders revealed that it had carried out a study (Reconnaissance Surveys) in the Local Government Council which is in the Central Senatorial District of the State and discovered that, the region's natural resources are raped on round-the-clock without remorse.
Letter reads in full: "Reconnaissance Surveys conducted by the Rainforest Resource and Development Centre (RRDC), has confirmed the existence of widespread destruction and degradation of the rich natural, pristine tropical high forest in the entire Boki Community. It is evident that the people of Boki have not benefited collectively from the colossal loss of their God-given resources. The implication of this unfortunate development will be the total loss of the rich natural heritage of the people of Boki and their unborn generations.
"We are therefore by this clarion call, asking the under listed prominent sons and daughters of Boki communities, to please crystalize an action group. The proposed Action Group should incorporate and mobilize all the Royal Fathers and other respected Elders and Opinion Leaders, to take urgent action to stem the tide of destruction that is ongoing in their rich natural heritage.
"It is our considered opinion that if properly preserved, the forest of Boki, including the Afi Wildlife Sanctuary, the Drill Ranch (Pandrillus) program as well as the Cross River National Park program at Bushi Okwangwo, could be presented to UNESCO as a World Heritage Site. This would certainly bring greater honour and financial rewards to the landlord communities.
"Urgent action is needed to stop the forest bandits from destroying the remaining forest resources of Boki Nation. If such collective action is taken promptly, the sons and daughters of the present day Boki will certainly be exonerated from blame, when future generations of Boki sons and daughters will demand for explanations of the whereabouts of their vast natural inheritances placed under your care. We therefore implore the following personalities to please institute URGENT ACTION to save the only remaining forest resources in Boki.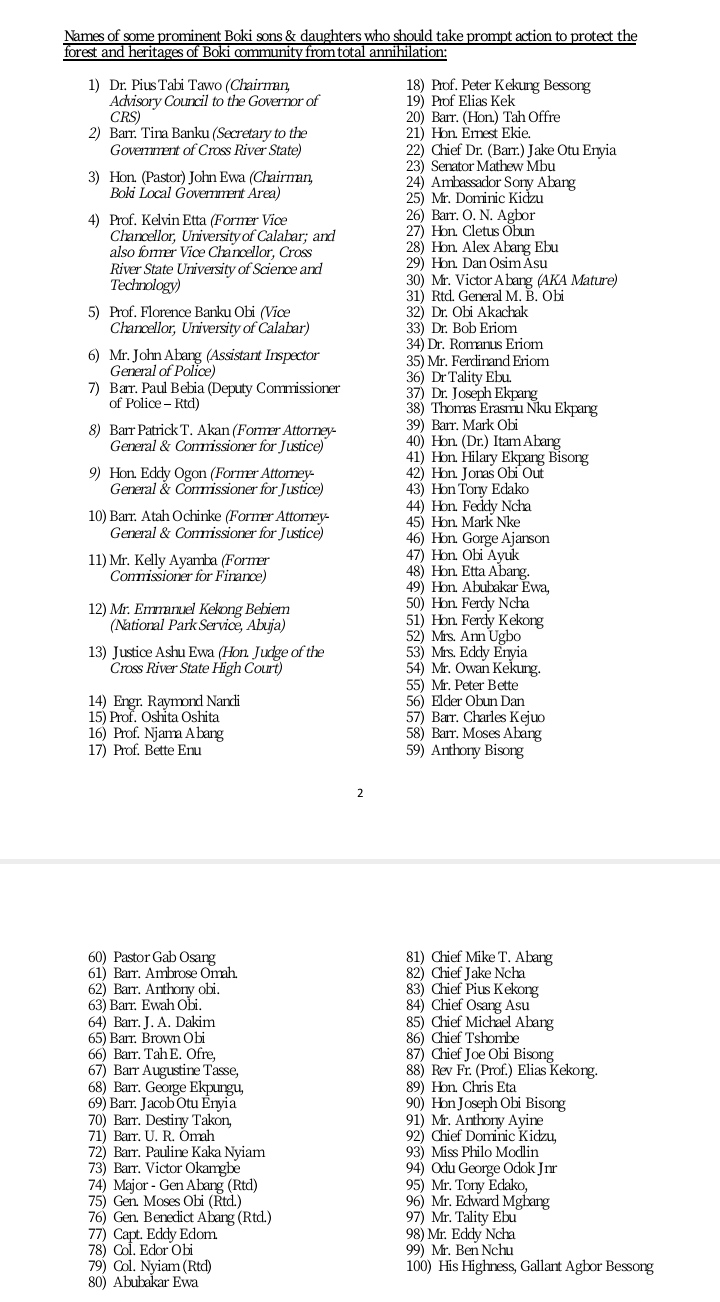 "Honorable Chairman, Sir, we thank you and the above listed personalities for the time and the resources that this project will certainly demand from you. We wish to assure you that, future generations of Boki sons and daughters in particular; and of Cross River State in general, will remember you and your genuine efforts with gratitude and high honor. Please kindly act now before it is too late; for the World is watching your reaction. THE TIME IS NOW."